Editorial
Content Libraries May Be Expensive Relics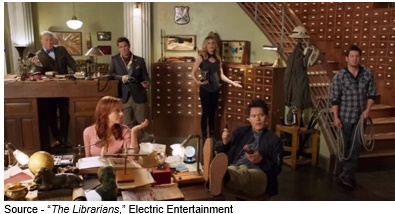 "I'm offering you a life of mystery and misery, of loneliness and adventure. More than that, I'm offering you an opportunity to make a difference, to save the world every week, twice before Friday." Flynn – "The Librarians," Electric Entertainment, 2013
We love all the noise about what a rich, deep and broad library streaming folks have compared to the "new kids" – Netflix, Apple.
O.K., Amazon cheated by buying theirs (MGM for $8.5B) … whoopee!
We're just not a library kind of guy because if it's old stuff we've probably seen it or don't want to.,The idea of watching an old show or series is boring–especially if we've seen it before.
Unless there's a darn good reason!
To prepare for John Wick 4 a few months ago, we relived John Wick – 2014, John Wick Chapter 2 – 2017, John Wick Parabellum – 2019 and we were ready to see Keanu Reeves back in action.
For Matrix: Resurrection, we dug around and found Matrix – 1999, Matrix Reloaded – 2003, Matrix Revolutions – 2003 and sorry Keanu, it just wasn't a good video game remake for us.
To prepare for Top Gun: Maverick, we had to venture back to 1976 to refresh ourselves on the antics/action of Tom Cruise and Val Kilmer.
Disney, Warner Bros. Discovery, Comcast, Amazon/MGM, ViacomCBS, Apple, and AMC Networks all tout the tremendous value of their libraries that extend back to the era when Hollywood was really Hollywood.
Their accountants are probably placing a huge value of the old content on their books and the edge they have over the techie newbies – Netflix and Apple.
Editorial
Considering the Complete Content Creation Team
"I don't think it's nice, you laughin'. You see, my mule don't like people laughing. He gets the crazy idea you're laughin' at him. Now if you apologize, like I know you're going to, I might convince him that you really didn't mean it." – Joe, "A Fistful of Dollars," Jolly Films, 1964
We're delighted with the way the M&E industry has bounced back after two years of being basically on hold.
During that time, the industry got creative and innovative. It also developed new ways for storytellers to develop, produce, post and distribute content and connect for an increasingly anxious audience.
As new problems arose, the innovators solved them and blazed new trails … all designed to do more with less.
And, according to Bruce Nash, Nash Information Services, film/series crews responded by turning out more than 5,000 projects last year around the globe including countless shows/series, 1,400 films in the U.S., 240 in China (increasing dramatically), 260 in Britain and volumes of major, minor and short movies around the globe, especially in South Korea, India and Italy.
Recent Appointments
Luke Holt Joins Big Pic Media as Sales Director
Latest News
Riedel Intercom System Delivers Reliability and Clear Communications for the Royal Shakespeare Company
Magewell's USB Fusion Video Capture and Switching Device Wins AV Technology "Best of Show" Award at InfoComm 2022
Magewell's new USB Fusion multi-input video capture and mixing device has been honored with a coveted Best of Show Award from Future plc's AV Technology at InfoComm 2022.
IBC365: What's coming up ...
Join leading industry experts Wesley Dodd, CEO at Celebro Studios and Helio Eufrauzino, Media Solutions Specialist at Globo on Wednesday 22 June to discover how NDI is being used to facilitate live productions, with insight from users and tech suppliers.
Harmonic Breathes New Life Into Cisco GS7000 Node
Pebble DAA Device Transforms End-of-Life GS7000 Node Into Future-Ready Solution for Next-Gen Broadband
MERGING+ANUBIS plus other exciting news
MERGING+ANUBIS and the new Commentary Unit Mission presented at ISE 2022 and more...
HARMONIC: Live Webinar: How to Stream Live Sports at scale
Join Shahar Bar, Harmonic's Senior Vice President of video products and corporate development on June 2, at 11 AM ET, to see how you too can achieve a Tier-1 level, live streaming experience at scale.
TV5MONDE Expands Global Reach with Harmonic Cloud Streaming
Leading French-Language Entertainment Network Streams Internationally with VOS360 SaaS
IBC2022 set to bring Media Technology industry back to business with live, in-person event
Registration is now open for IBC 2022 at the RAI Amsterdam in familiar early September timeslot
Registration is open for IBC2022
IBC2022 is back for business at the RAI Amsterdam from 9-12 September 2022
In Other News
WorldDAB News
HRT Croatia Enhances Live News, Sports Coverage and Current Affairs Reporting with Dejero
Dejero transmitters, encoders, receivers, network aggregation devices and content sharing service at the heart of HRT's field reporting
CIO Once Again Adds Cobalt Iron to Its List of 10 Best Cyber Security Companies
Sonnet Announces PCI Express 3.0 Adapter Card Featuring Two NVMe SSD Slots, 16-Lane PCIe Bridge
Avid Updates Trade Show Exhibition Outlook with Return to IBC Show in September
GRAVITY MEDIA CAPTURE HISTORY AT THE PHO3NIX SUB7 & SUB8 TRIATHLON IN GERMANY
Clear-Com Sponsors AVIXA Women's Council Breakfast at InfoComm 2022
104.1 Power FM is king in Kigali with Lawo's virtualization
Cooperstown All-Star Village Chooses Pixellot to Livestream 5,000 games
KILOVIEW Expands its NDI Ecosystem for Supporting End-to-End IP Video Transmission and Production
Broadcast Pix Mixes Future Technology with the Past for Museum of Civilizations of Europe and the Mediterranean
Creative Technology Eases Migration to ST 2110 IP Live Event Production with Winning Combo from Imagine and Panasonic
Our Sponsors
Archives