CABSAT goes virtual, reviving industry connections at a click
Every year the global broadcast, satellite, content, production and media communities descend on CABSAT in Dubai to share their greatest innovations, insights and experiences in the sector. This year, they are all headed online with CABSAT.virtual 2020.

Register now to access the virtual platform that offers invaluable opportunities to network, source global technologies, join power-packed virtual conferences and meet content creators, producers and distributors, all from the comfort of your own desk.
Here are some reasons why you shouldn't miss:
Latest technologies
Browse the latest technologies, services and solutions from global enterprises – with plenty of interactive tools to book and watch product demos, connect directly and video chat to move your business conversations forward.

Hear 3 time Primetime Emmy award-winning digital series creator Bernie Su deliver a keynote on "Building Audiences into TV series in a COVID world". Arab world's media superwoman Khulud Abu Homos delivers a special address on empowering local talents in the Filmmaking industry in UAE & KSA. Streaming platforms OSN, Weyyak by Zee Entertainment, Shahid and social media platforms TikTok and Facebook will talk content during our 2 day conference program (live and on-demand sessions).
Enjoy AI-powered business recommendations alongside a comprehensive networking toolkit, whereby you can connect with relevant exhibitors and industry peers via chat & video calls.
Experience seamless and secure navigation across the virtual platform. After your registration you'll receive an email from our partner hello@swapcard.com to set up your digital profile & business card including a few tips & tricks on our intuitive event platform.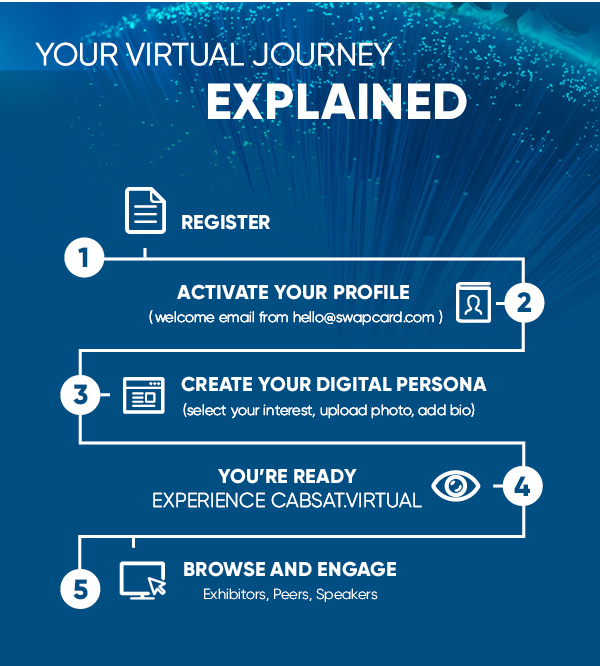 CABSAT.virtual - The one event not to miss this year!